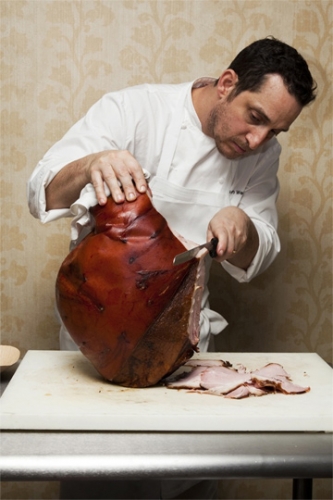 Executive Chef / Founder
Jason Weiner is the executive chef and proprietor of Almond, an American bistro with locations in Manhattan and Bridgehampton, New York. Weiner serves hearty, seasonal dishes that reflect farm-to-table roots and highlight local ingredients. Weiner's success as a chef and restaurateur can be largely attributed to his extensive experience at many of the country's top kitchens.
In 1991, Weiner helped open Aqua in San Francisco, working under Chefs George Morrone and Michael Mina. He was an early witness to locally grown, farm-fresh cooking. As Aqua's mission was all things seafood, Weiner learned a good deal about preparing all varieties of fish, but it was the one-on-one interaction with local farmers and foragers that would have the greatest impact on his culinary philosophy and future. In fact here he is now carving a ham from a hog raised by his cousin Sean in White Sulphurs Springs, NY
In 2001, Jason reconnected with childhood friend and future business partner Eric Lemonides, and the two looked at an empty restaurant space in Bridgehampton. They barely hesitated in taking over the space, completing a full build-out by the following spring. The success of the restaurant led the team to expand to Manhattan. In October 2008, Jason and Eric opened the Manhattan outpost of Almond to much fanfare. The simplicity of the menu, the ingredients from local farmers, the friendly, laid-back atmosphere and Jason's adherence to the philosophy that the less a chef a does to an ingredient the better, made Almond an instant favorite.
Weiner has been invited to cook at the James Beard House five times. He has also prepared open air feasts with Outstanding in the Field for seven years running.
When Jason isn't working, he can be found at home in East Hampton, NY playing I WANT YOUR SOCK! (long story) with his daughter Rive Tiger Lily or perhaps annoying the hell out of his lovely wife Almond by wondering aloud her if she has perhaps seen his wallet(or phone, or keys, or…).